Sublimation printing is a technique that uses heat-sensitive inks. These inks turn into gas under the influence of heat and combine with a 100% polyester medium. Since the ink becomes part of the structure of the material, the images on the fabric don't fade or crack – even after multiple washes.
The Epson Expression Premium ET8550 is 6 colour multi-function printer, from this all in one printer, you can do print, scan and copy.  It prints  up to A3 size. This printer is perfect for most sublimation products Especially for sublimation T-shirt printing. you also can use this printer for mug, plate, tile, cap, phone cover and all up to A3 size products.
Product Details:
Place of Origin——–New Zealand
Brand Name———–Epson
Model Number——– Epson ET-8550
Type——————–Multi-function Inkjet Printer
Printing size:———–A3 size
Color——————–6 colours
Ink set——————-C,M,Y,K,­BK,GY
Printing resolution—– 5760x1440dpi
Ink Delivery System—-Ecotank
INTERFACES————USB 2.0 Hi-Speed+ for PC/Mac® or WiFi
The Sublimation printer Kit contains:
1) Epson Expression Premium 6 colour multi-function printer ET-8550
2) Total 6 bottles of US premier sublimation ink, C, M, Y, K, BK, GY
3) 100 sheets of A3 size sublimation paper.
4) Sublimation tape.
Most Common Sublimation Problem:
PINWHEELS ON PRINTED SUBLIMATION TRANSFERS
Pinwheels, also known as roller marks or pizza wheel marks, are dotted lines that can appear on sublimation transfers. These marks are caused by the ink on the paper not drying fast enough, resulting in the wet ink being picked up by the roller and transferred onto the rest of the paper, particularly in the case of full-coverage dark-colour images.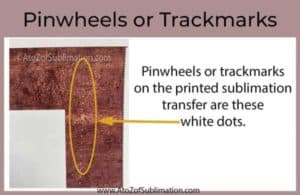 It is important to note that this issue is not caused by the printer itself, but rather is a characteristic of sublimation-coated paper. To address this issue, the following steps can be taken:
Clean the gears with alcohol using a riband if black dots (pinwheels) are present.
Use economic paper to avoid this issue. Additionally, using a longer time and higher temperatures will not result in a significant difference in the printing results between premium paper and economic paper, particularly for mug printing.
If you still want to use premium sublimation paper, try reducing the speed and providing more time for the paper to dry before it exits the printer. Additionally, reducing print density can also help improve this issue. check the following picture for the setting.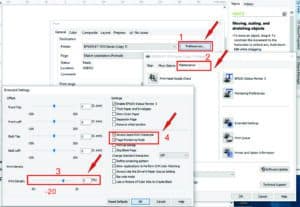 It should also be noted that pinwheels can be a random issue and may or may not appear from the start.
As such, it is important to choose your printer carefully as this issue cannot be used as a reason for a refund.
Term and Conditions
The sublimation printer is ordinary Epson inkjet printer with special sublimation inks.
Printer comes with  12 months return to base  limited mechanical  warranty only, warranty excludes ink related problem such as printer head blocking issue as printer doesn't use original ordinary ink.
Printer is also non-refundable product and we can't process the refund once the ink has filled.
So please choose it carefully.
Don't purchase if you can't accept this condition.
If you order it and that means you have accepted this special condition.